Joe Gilligan Gets Silver at Southend BJJ Open – September 2016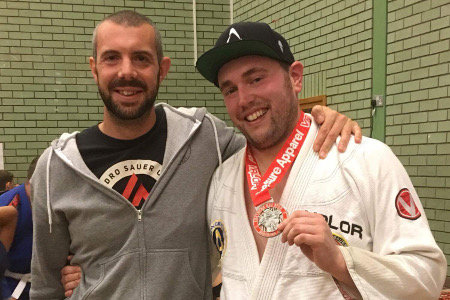 Weighing in towards the bottom of the top weight category, Team Pedro Sauer UK member, Joe Gilligan knew he was in for some tough matches at the latest Southend BJJ Open!
After a standing back and forth, Joe scored a text book double leg takedown in his first bout, landing in side control. Remaining patient and cool headed, Joe waited and took the opportunity to transition to mount. Once there, Joe cooked his opponent before hitting an armbar, after threatening the cross choke.
After a similar start on the feet in his second bout, Joe stumbled on a uchi-mata attempt leaving him with his opponent in his half guard. After keeping his opponent at bay for some time, Joe finally succumbed to an Americana from side control.
Silver in his first competition is an amazing feat. Well done Joe!