Master Royce Gracie Seminar – April 2016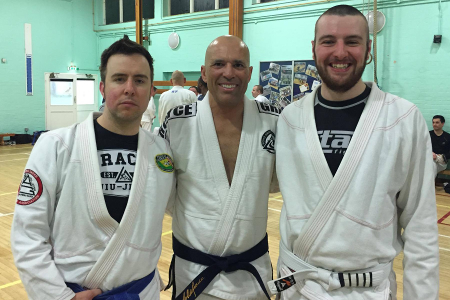 Recently Team Pedro Sauer UK students Martyn Rackham and Ally Grant attended the third annual Master Royce Gracie seminar at the Jon Hegan's Gracie Jiu Jitsu club in Upminster.
UFC hall of famer, Royce Gracie, started the seminar with a range of street effective techniques including stand up self-defence aspects of distance management, headlock escapes and improvements to the standing guillotine attack.
The session then moved to the ground; with a series of attacks from a failed guillotine, including the kimura, omaplata and a sweeps to mount.
Martyn and Ally mentioned that the techniques shown although familiar, were improvements or simplifications on what they had seen previously and thanked both Royce and Jon for sharing such a wealth of knowledge.