Newquay BJJ Open – September 2015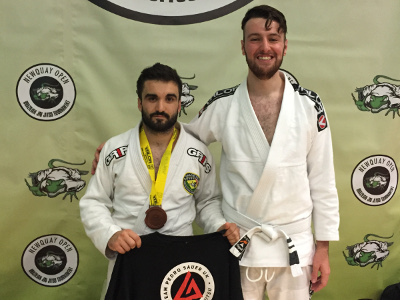 Following on from competing at the 1st Southend Open No Gi in May, Team Pedro Sauer UK members Ally Grant and Kieron Simpson, travelled to Newquay to compete again; this time in the gi.
Both guys decided to drop a weight class since their last outing; so had to put in some work away from the mats to get their nutrition on point.
Ally fought hard in his first match, securing the win, by way of Helio choke. His second was unfortunately lost via armbar, with less than a minute left on the clock.
Kieron's first match went the full distance, with him coming out up on points. His second cut short when he got caught in an extremely tight bow and arrow choke.
Although both did the same; winning their first and losing their second, in Kieron's case it was enough to secure a bronze medal. Congratulations guys! Your effort leading up to the competition was admirable!