Professor Allan Manganello Seminar – October 2016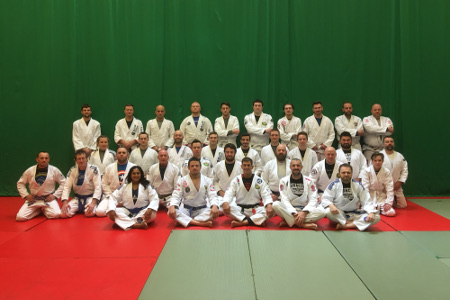 Returning for his second visit to Team Pedro Sauer UK, October 2016 saw Professor Manganello make his way from Louisville to Chelmsford.
As an added bonus for class members, Professor Allan started his visit by taking the regular Thursday night class at South Woodham Ferrers; in which he focussed on using the double leg takedown on an aggressive opponent, before working the finer details of the rear naked choke.
The seminar itself was split into two parts. Part one was a triangle choke masterclass; working on conceptual ways to ensure a higher percentage success rate with any triangle. The second part focussed on the street defence mindset of Gracie Jiu Jitsu; how techniques and positions change, once striking is an option, weapons might be involved, or there may be multiple opponents.